It is not an easy game, as many people believe it to be, as there is so much going on at once, often too much to keep track of. To make sure you are not playing in the moment too much, meaning you will miss out on a lot of what is actually going on, it is important to prepare as much as possible before the balls start appearing on your computer screen.
Before you even get your game cards, you should learn what patterns you should be looking out for.There are more than just the obvious patterns that will pay out on many sites so you should be looking up what these are.
Straight Line Pattern
The first of these is the most simple: the straight line, consisting of 5 vertical, horizontal or diagonal squares.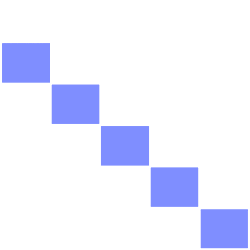 Four Corners
Four Corners requires, as the name suggests, the four corners of your card to be checked off.

Frame Outside
Frame Outside frames your card as the outside rows and columns are completed.

Other Bingo Card Patterns
The B and O pattern asks for the B and O columns to be completely marked. A Barbell needs 3 squares in both the B and O columns to be marked at the same height with a straight line of marked squares joining them in the centre of the 3 squares. Patterns can also form the letters C, L and T, which are basically what they look like. C consists of the entire B column connected complete top and bottom rows, L uses the B column and bottom row and T is comprised of the N column and top row.
Depending on what site you are playing on, you may be able to play "any way" which allows you to rotate your card 90 degrees to achieve the patterns so be aware of the different perspectives that lie within your card.